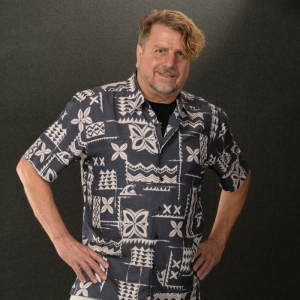 Oluf is 68 and was born in 1953, Oluf senior was an architect and his mother Barbara was an artist. He went to school in Denver and lived in Colorado until 25. After high school, his studies in engineering at Univ. of Colorado as well as independent studies at Oregon State were on a collision course with seasons of skiing at Steamboat, Bogus Basin & Telluride. His small company Loveis produced airbrushed bikinis, "Bikiniland, Telluride's only bikini factory." He was one of the earliest hang glider pilots in Colorado flying just two months after the first Colorado flights. Skiing won out over college, hang gliding and bikini airbrushing, as Oluf spent the next winter seasons powder skiing at Breckenridge CO, Grand Targee WY, and Bridger Bowl MT, the Bridger ski patrol respectfully nicknamed him "Cheaper than Dynamite." Oluf, still skis 60 days a year so ….let it Snow!
All though supported by his fiber art and airbrush work in his ski years, Oluf became a focused full time artist 43 years ago around 1977. His idea of using natural materials in their most natural form led Oluf to his 1979-83 ground breaking photographic series of altered nature collages "Fragments of Beauty." This media breakthrough led to internationally recognition, with 6 pages in Photo Annual 1985. Using large format cameras, he personally printed his large Cibachrome prints which defined quality so well that a Seattle gallery director left two of them hanging when the rest of the gallery was devoted to the show of the Westons… Edward, Brett, Cole, and Kim. This work sold to collectors including the Boise Art Museum. His next photo series was "Living Paintings" and collaged altered autumn leaves and flowers with painting on paper. All this work predates photoshop, and required perfection at the time of shooting. Note: 35 years later his goal is to re-release this classic work along with secret "new shots" in the 8"x10" film format. In the future you will be able to collect the remaining Cibachrome large format photos, from his stash of several 100.
In 1990 Oluf changed mediums again and went into painting stating "If I am going to be an artist for my life than I should choose painting or sculpture, and sculpture is too heavy." So painting it was! The early original textural collages and paintings were shown in a Colorado governors mansion show with his mother's paintings. Galleries and art consultants sold his paintings to many Fortune 500 companies in the US, with some abroad. Having to wait too long to get paid by the accountants of these corporations he started self marketing through Art Festivals, first in the west and then nationwide. Oluf was one of the first festival exhibitors with large work to fly to all his shows using air cargo. Ridiculed early on by other artists (who thought he would go broke,) Oluf profited by being able to display at the nations top shows on any weekend.
Many know him for the "Matrix Series" the tile-like series of large collages composed of 5 inch square unique originals. The public, artists, and promoters across America know that Oluf was the creator of this modern look. He first marketed "Matrix" paintings 27 years ago in 1993. Scores of collectors have collected "Matrix" with each collage and in fact every square a unique one of a kind original. Other artists have done their take on this look. The point to be made is that when you see geometrically arranged squares of originals think of Oluf and collect from the originator, some are still available on this site.
Next, Oluf painted primarily oils on canvas. Landscapes, seascapes and abstracts were painted with thin oils in "Flow Paintings." These combined gravity and thin paint controlled with dripping, palette knives and brushes. Every thing is in motion with this style so every second counts. "Paintings Featuring Drips" is another action painting style where oils were dripped over an under painting. The organized aspect of this style comes from dripping what Oluf calls North, South, East, West to which he throws in a few outlier drips.
He also loves the texture of thick high end oils colors from Holland painted with palette knives and brushes. "Textural Paintings" feature these paints combined with texture mediums. These paintings often take 6 months to dry. The "Textural Paintings" are often the most abstract of his styles, but usually fall into the categories of jungles, cities, or stripes. "Organic Geometric Paintings" have a strong element of order. The "Lights Series" use textural acrylics because they require a lot of taping technique. "Organic" applies to the newer oils that have lined up colors which are organized more like the kernels in corn.
Oluf would be bored if always painting in one style or the same painting over and over like many artists do. When asked, why he has so many styles he may state "Because… I'm not a one trick pony!" Since he keeps his art cerebral, creative and fun, expect his work to always be moving forward with ground breaking creative ideas such the many new "Flow Paintings." You could miss out if you like a painting of a certain style and wait too long to buy. Oluf changes with the times, and keeps each painting unique.
Oluf was married for 10 years. Two sons, Mikkel works in ER at Swedish hospital in Seattle, Weston, edits NFL film in Kansas City.  He has 3 brothers, Dave retired in Denver, Keith retired in Seattle , "Chip" in Cambridge – environmental policy at Harvard and a single sister Carol in Denver – occupational testing.
For the past 3 years Oluf has been retired from the national art festival circuit. He misses seeing all the people and his collectors the most. For retirement he moved to Sagle, Idaho in the Idaho Panhandle near Lake Pend Oreille and Sandpoint, Idaho. Winters he skis 60 days at Lookout Pass and Schweitzer Mountain. Sandpoint is often rated the most beautiful small town in the US. Hard to argue with that, a great ski area, mountains in all directions, and the huge scenic Lake Pend Oreille with the sandy "City Beach" downtown. Some of the hikes Oluf takes by his house have views that rival Norway. Boating on the lake with a ski boat is a spectacular way to spend a summer day. In fact save 3 miles you can boat 50 miles across the states panhandle on Pend Oreille.  Nearby Coeur d'Alene is a bustling tourist town with a small art scene.  The entire area is among the fastest growing in the nation, but Oluf didn't move here to sell his art which appeals more to bigger city sensibilities. Oluf is still totally self marketing all his art …so pick something out! And, I would like to point out that with 50 blank canvases and plenty of paint, it seems probable that Oluf will begin painting again!
Thank for visiting the home website for Oluf Nielsen, Artist.